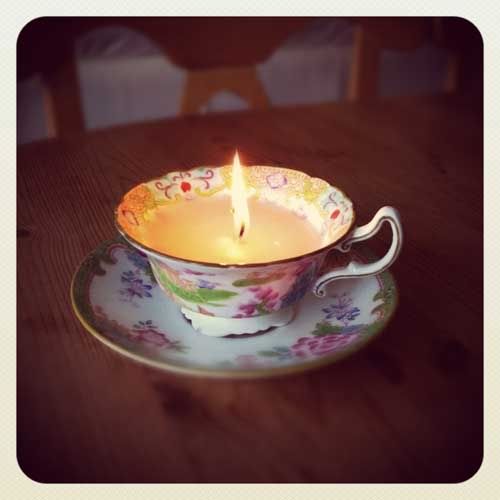 Easter is over, and I'm still struggling to eat the remainder of my chocolate eggs. Either I've got older, or the eggs have got bigger. It's just too much!
I've been trying my best to get all my work done, one of which was creating a teacup candle for Polly Magazine. It's a publication created with my two significant others, Emily and Emma. We like to dream a lot, and live a lifestyle that takes us away. It's cheesy as hell - but we love it. Think of it as a magazine selling a lifestyle which encompasses all things tea and antiques. So as you'll see above, I had a go at making my first teacup candle, which is surprisingly easy and only a few pennies to make. My little tip is instead of purchasing the wax in a ready made bag, just get all destructive and pull apart old candles you already have, such as tealights, that are perfect for the job. Only the wicks need to be purchased! If you'd like to know how I made them, let me know and I will happily create a recipe post!
I've also got some exciting news to share. I managed to secure a Freelance position with Housetohome, where I helped out in February. Now I get to upload and edit online features about beautiful houses and get kindly paid for it - what's not to love?
Whilst in conversation with the lovely people at
Cox & Cox
- they reminded me about some pretty little items they have on their website and I couldn't resist showing you. Everyone, including myself has gone a little cupcake mad lately - but these sweet
treat bags
are a good alternative as a gift rather than a cupcake box. Filling with all yours or your friends favourite treats would be so nice to receive! I like to send my friends little bags of sweets when times are tough, such as exams. Sugar cures all worry!
I also adore their
candle lanterns
. As we approach the festival season, it's a cute way of incorporating some personality into your garden. Both scattered around the lawn and around the garden table is a soft and gentle light perfect for late night BBQ's. I would pray for the sun to come back - but I do enjoy just as much throwing on lots of jumpers for this type of occasion.