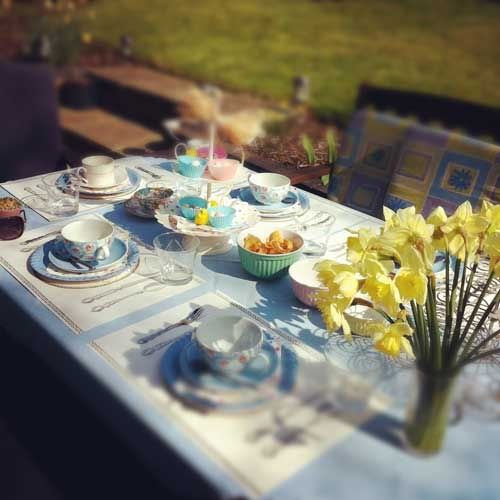 It's Easter and I'm home from university, although I've brought all work with me too! But I was looking forward to a much planned tea party, especially as my friends are such good bakers. I'm always surprised what delicious recipes they quickly create! Yesterday we had carrot cake, meringue and strawberries, rocky road and my own strawberry cupcakes taken from a new recipe book,
Marian Keyes - Saved by Cakes
. Tea parties are such a good excuse to sample some delicious desserts and nibbles, with the accompanying tea to wash it all down with!
I really enjoyed setting up the table in the garden for this occasion, which meant using all Cath Kidston bowls and teapots, whilst uncovering pastel tablecloths and napkins. I also managed to use these new placemats I purchased whilst working in London. They are really fab A3 paper sheets with a vintage design of a bowl and cutlery printed on it.
Other great ideas is using doilies for placemats, or using a cupcake stand as the

centerpiece

for your creative output. If you don't have a cupcake stand, balancing small plates on bigger dinner plates with a sherry glass as a support will look great! I decorated mine with cupcake cases filled with mini eggs with little craft chicks on it! Mixing different cutlery and crockery together will add to the vintage tea party look.
I also had a furry guest who came over for the tea party, so I decided to make her own special cupcake which involved a lot less sugar and more peas!
But it is important to provide guests with savoury options as all the cake can fill them up quickly! So we enjoyed some chicken satay sticks and scotch eggs with iced tea to break it up a little. Tea parties are a great way of making the most of the sun, especially if you prefer a sweet treat to a BBQ.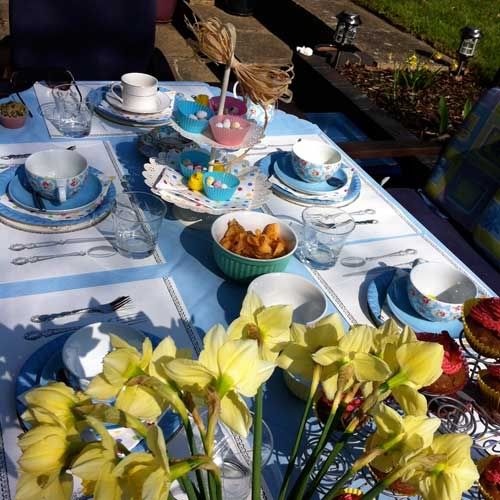 I'm looking forward to a friends birthday in a few weeks time as last year the heat wave brought us to Virginia Waters to celebrate by the huge lake with a picnic and outdoor games. Fingers crossed this beautiful sunny weather stays for the rest of Easter!

X
#cupcakes #tea party #cake recipes #tea #party supplies #party ideas #cake decorating #dog cupcakes